The 3am start didn't bug me, as all summer I had been longing for my holiday to arrive and it was finally time for me to head to the South of France!
When we arrived we were kindly greeted and collected by Peter (our apartment owner) at the airport 'Kiss and fly'. (The French nickname for the drop off/ collection point. Such a sweet term!) Peter then drove us along the costal route to our apartment and we were treated to our first glimpse of the south of France. Well second, there are some amazing views on the plane as you come in to land!
A short drive from Nice airport and we arrived in Antibes. We had booked a perfect little apartment situated right in the centre of Old Town Antibes. It had the cutest little balcony area, above the restaurants in the square - Place nationale.
We wandered around Antibes that morning and familiarised ourselves with our new home for the next few days. We admired the amazing super yachts in the harbour and found the local beaches. Most importantly we found the local market (that is on EVERYDAY!).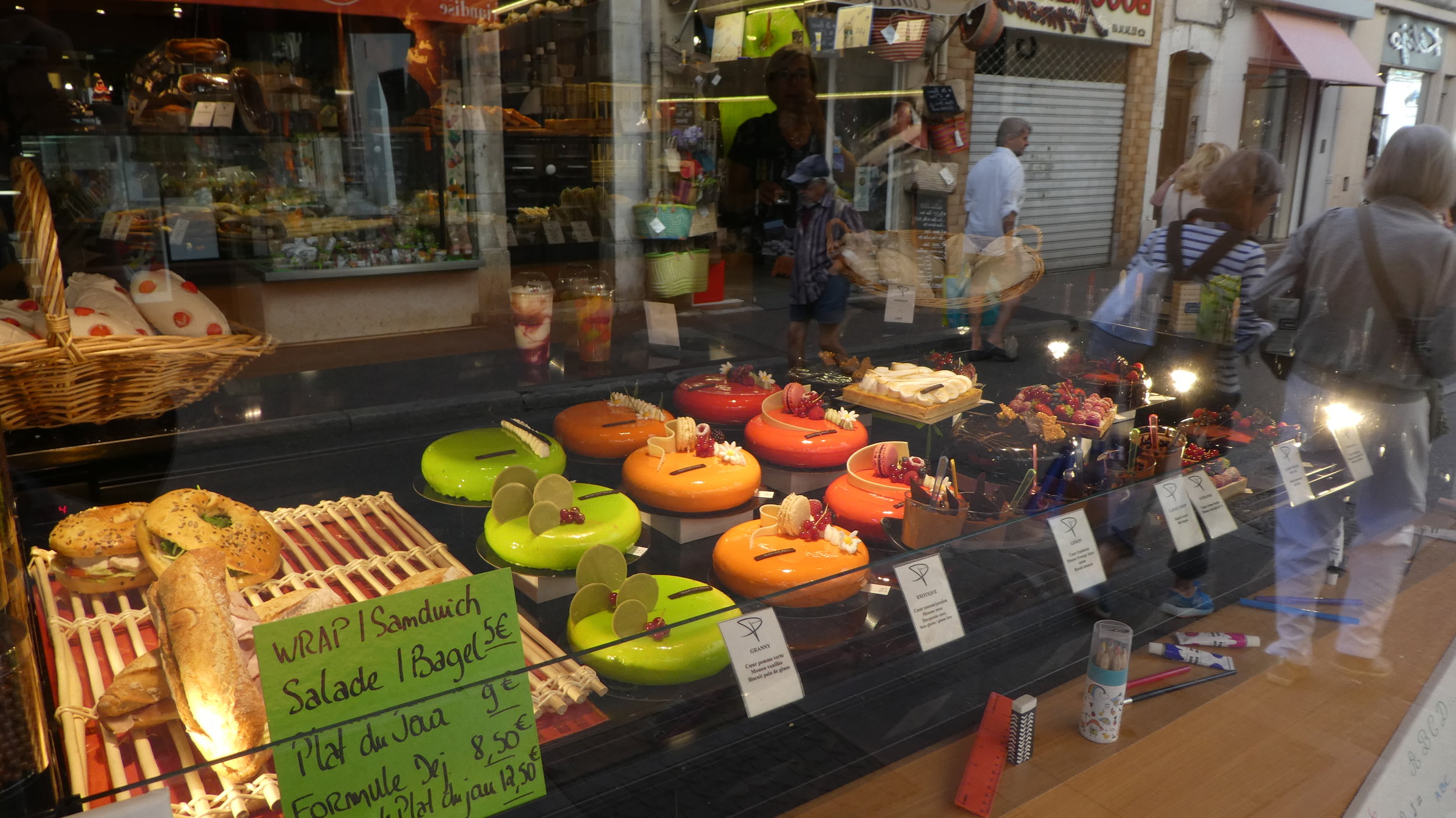 After a lovely few hours exploring and reaching 10,000 steps we decided it was time for a coffee break. We returned to the square and found a nice spot outside in the sunshine, next to a gentleman playing the accordion, does it get more French? I opted for a chocolat chaud and it went down a treat. We also established our local bakery (20 steps or so from our front door) and purchased our first baguettes of many! The bakery was so popular there were often queues out the door!
Mid afternoon arrived and it was time to test out the little table and chair set on our balcony. We put together a tomato, basil and mozzarella salad with ingredients we had picked up from the local market. We also had a couple baguettes from our bakery and a chilled glass of rose. We then spent the late afternoon on a lovely little beach, just off the harbour.
As the sun began to set we headed to our apartment and got ready for our first evening in Antibes. We went to a restaurant we had spotted earlier that day called Cafe des Chineurs. The restaurant was a five minute walk from our apartment. I ordered the crab ravioli and we shared a bottle of Sancerre Blanc. Feeling full, I couldn't manage a dessert but I did try some of the chocolate mousse that Leigh had ordered and it was dreamy. Pleasantly satisfied and fed we headed back to apartment.
We awoke on day two, immediately opening our balcony doors. Greeted by autumn leaves falling, glorious sunshine and church bells ringing. We decided to find a nice spot near the beach to eat our breakfast, stopping off at the bakery on route.
After a pleasant start to the day we popped to the market, bakery (again) and the supermarket to pick up some bits for a picnic.
We then took an uber to Golf Juan where we boarded a Riverlines ferry over to a little island called Ile Sainte Marguerite. The ferry cost just €15 and this entitled us to explore the island for a good part of the day. We left the harbour at 10:45 arriving at the island a little after 11 and we were collected at 5pm.
When we arrived at island we strolled up towards the greenery and after a short walk discovered a little beach, with yachts dotted around in the sea ahead. We settled into this spot with nobody else in sight. At lunch time we enjoyed our picnic and dipped our toes in the sea. Unfortunately due to having the incorrect footwear we couldn't get past the rocks on the seabed. After a few hours of lazing in the sun and only seeing a handful of people, we ventured up to Restaurant La Guérite. The most beautifully located and furnished restaurant. Having eaten we opted for a glass of wine each and watched the world go by at the beach bar.
Before we knew it, it was time to head back to our ferry (unfortunately we were not leaving on our super yacht like many others at the restaurant!)
On Friday evening we took a short walk to the front for dinner. We were lucky enough to grab a table at L'annexe. The place was full of French locals, a reassuring sign that we had picked a good restaurant. The food certainly confirmed this, I had the most delicious parmesan and truffle risotto.
Saturday morning had arrived and I was super excited as we were heading for brunch a Choopys. A cupcake and coffee shop we had spotted on Thursday. We were eager and awaiting the opening of their doors at 10am, along with several others.
The super green smoothie was ordered all round. It consisted of apple, spinach, lemon, ginger and mint. I had the eggs florentine for breakfast and it was perfection. Served with a crisp salad, crunchy bread and pancakes. As we left we couldn't help but pick up some cupcakes to takeaway with us, which were all gluten free! I chose the caramel cupcake and I can honestly say it's one of the best cupcakes I've ever had!
We wanted to spend our last afternoon on the beach and I had to get an ice-cream for the walk, I had been admiring them for days! Plus it was shaped like a flower…
We spent the afternoon relaxing on the beach and returned later that evening for a picnic. We picked the best spot on the beach and tucked into our freshly prepared nectarine salad with all our ingredients from the market. Unfortunately we had forgotten the most important part to our picnic.. the cork screw for the wine! We then walked off our picnic and took a stroll around the harbour to admire the new yacht in town. Rumour has it, it's the biggest super yacht in the world.
We then returned to our apartment to enjoy the wine we couldn't open on the beach, despite trying many methods and watching you tube videos!
Sunday arrived and it was our final morning. We popped to the bakery to pick up our final pastries and headed to a little coffee shop. We sat on the tables outside, on a little french side street, whilst watching the locals walk by. Some with their families, their dogs and even one lady with 7 or 8 baguettes in her basket! Finally we made our last trip to the beach before heading back to the apartment.
Peter and his wife Caroline (owners of the apartment) were both lovely people, with a wonderful place that can be found on Air b'n'b here. They had even kindly offered to drive us to and from the airport.
If you are looking for a place with charming character and an insight into the authentic French lifestyle this is the place. The apartment consisted of a bed room with a small balcony, living room with a very comfortable sofa bed, a decent kitchen area and bathroom. Perfect for our small group.
The south of France is truly remarkable and I cannot wait to soon return and explore some more. Next time I would like to head into the mountains as I have been told by many how beautiful they are. Antibes is a place you can relax and unwind whilst also having many places to explore and keep busy. Even on our last day we were still discovering new shops and restaurants, tucked up little side streets.
As you can see I couldn't get away from the blue, white and red theme when deciding what to pack.
In Antibes I couldn't help but notice the effortless style the locals seemed to have. I watched people glide into the slightly chilly sea with absolutely no hesitation. Watching people leaving the water was like that scene from the Bond movies! Walking up the beach so gracefully, dressing themselves with such class and style and off they went.
If you are looking at booking a trip to France I highly recommend the south of France, in particular Antibes!
The moto I have left Antibes with… Be more French!
CB x